There is a new HJHL scoring king and his name is Jordan McConnell
---
---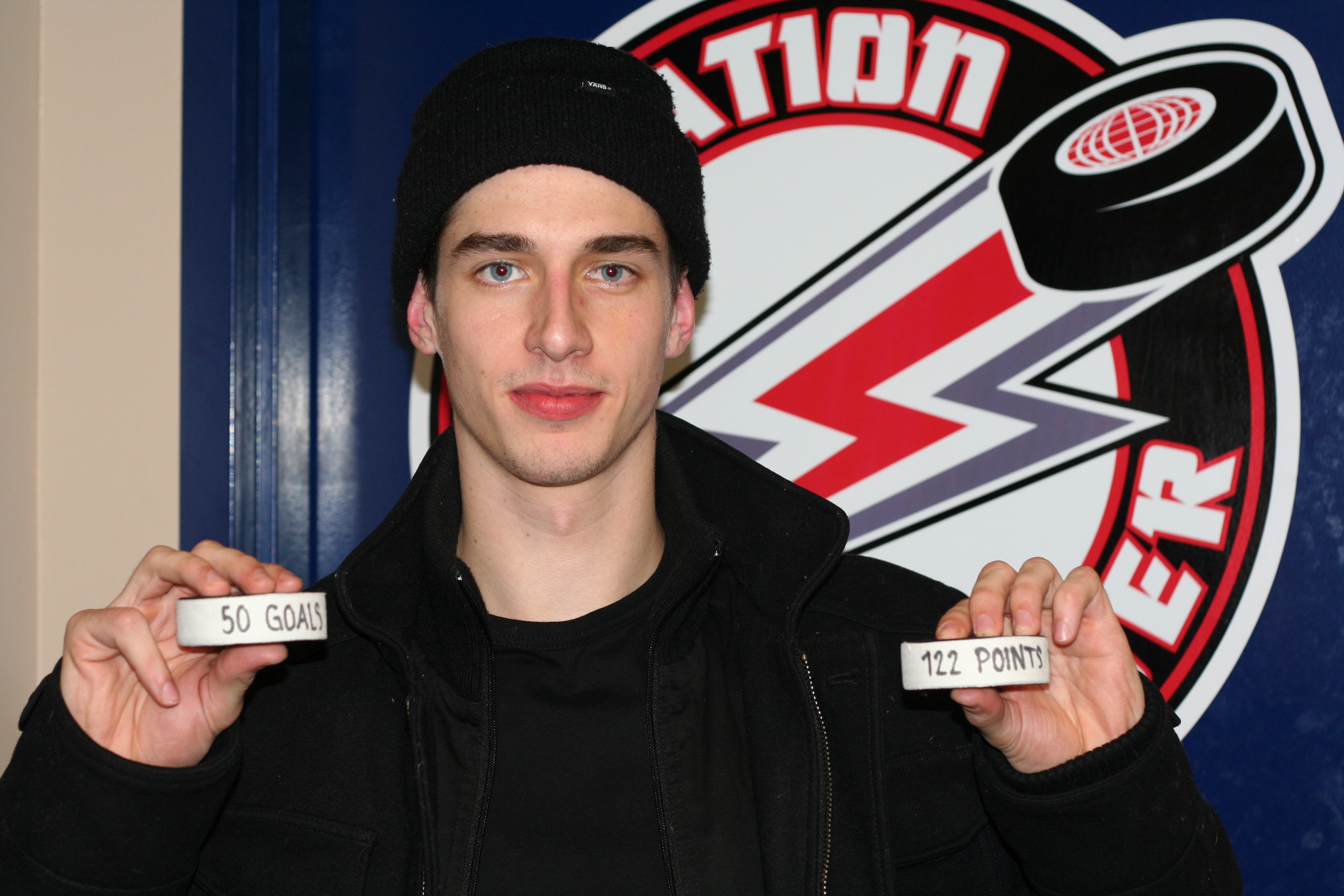 ---
McConnell breaks HJHL scoring record
By SCOTT FISHER
FEBRUARY 2, 2019
There is a new HJHL scoring king and his name is Jordan McConnell.
The Airdrie Techmation Thunder sniper scored 10 points in a lopsided win over the Hills Thrashers on Friday night.
McConnell, who now has 50 goals and 125 points, broke former Thunder Brad Rossler's league mark of 121 points set in 2005-06.
Linemate Rylan Plante-Crough also scored four times to hit the 50-goal mark as the Thunder improved to 33-3.
"I'm pretty happy," McConnell said. "Obviously, I got a lot of help this year from Rylan and some of the other guys I played with.
"Our team has had a really good year. We're scoring lots of goals and the pucks have seemed to be bouncing my way all year."
After playing a couple of seasons in the AJHL with the Drayton Valley Thunder and Calgary Canucks, it was obvious the 20-year-old was going to put up a ton of points.
But not even he could have predicted this type of production.
"I had a good first weekend," McConnell said. "It was a hot start but I didn't think I'd be able to keep that pace."
The 6-foot, 185-pounder has at least one point in all 33 games he's played this season - a feat almost eye-popping as the scoring record.
"They're both really impressive," said Thunder head coach Derek Stamp. "To put up that number of points in a season is incredible.
"And to do it game after game, without missing a beat, shows what a special player Jordan is.
"As a coaching staff, we are proud of his accomplishment. It could not have happened to a better person."
McConnell is also just four assists away from another league record, set by Rimbey's Dallas Hand (79) in 2004-05.
Airdrie, which has locked up home-ice advantage throughout the HJHL playoffs, have to road games remaining on the schedule - in Okotoks next Friday and Stettler on Saturday.
After that, it's onto the post-season and McConnell said next weekend will serve as a valuable tune-up before the real season begins.
"We need to fix a few things with our defensive zone," McConnell said. "Playoffs are a different animal so we need to focus on that."
####
For more information:
Derek Stamp
Head coach, Airdrie Techmation Thunder
Derek.stamp@shaw.ca