Thunder Win HJHL Championship
---
---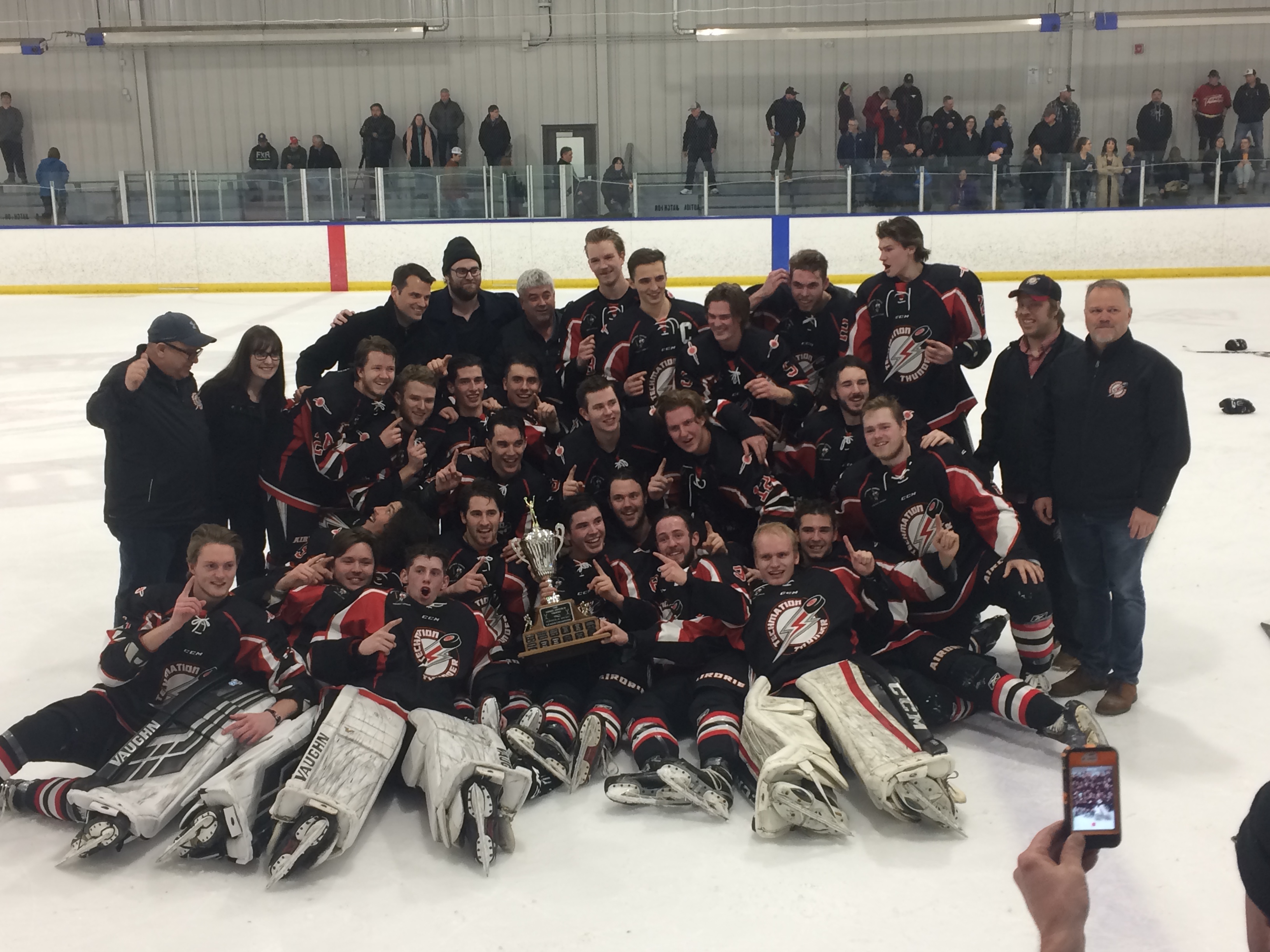 ---
Thunder win HJHL championship
BY SCOTT FISHER
March 27,2018
The Airdrie Techmation Thunder are HJHL champions.
The Thunder clobbered the Coaldale Copperheads 10-5 on Tuesday night to sweep the HJHL championship, the city's first since 2000.
Rylan Plante-Crough, who scored 50 goals during the regular season, dominated in the clinching game with a hat trick and a trio of assists.
"It means so much because I've lost to the champions the last two years," Plante-Crough said. "So it's finally ggod to win and be the champion."
The Thunder added a third title to their trophy chest after previous wins in 1997 and 2000.
Injured captain Jacob MacDonald wasn't able to suit up in the final but was there to support his teammates during every game.
"I'm just super-proud of the guys," MacDonald said. "From start o finish, we competed every night,"
There's no doubt about that.
The Thunder capped off their amazing 35-3 regular-season run that saw the Airdrie squad blow out one team after another en route to the title.
Defenceman Ben Orde had been with the team for four seasons before leaving for work. He re-joined the squad for the playoff run and was left searching for ways to describe his emotions.
"Words can't even describe," Orde said. "Chasing it for four seasons, and getting the chance to come back and join the team again, and win a championship, there's nothing like it."
Thunder bench boss Derek Stamp said once his team is focused and ready to roll, look out.
"I guess it was an appropriate way to end the season," Stamp said of his club that punished the opposition 335-96 during their demolition run during the regular season.
"We had so many games where we seemed to put a lot of pucks in the net.
"These guys deserve it. This is a special group of hockey players. They're close, they're super-talented and they deserve this enjoyment, and hopefully we can keep it going at provincials."
Yes, the job is never finished.
At least, not yet.
The Thunder are off to the provincial tournament April 5-7 in Wetaskiwin.
Jordan McConnell had a pair of goals and five points in the series-clincher while Barrett Sheen also potted a pair of markers.
Jason Wenzel, Tyler Petrie and Brett Campbell rounded out the scoring in the the championship game.