Airdrie Techmation Thunder hand out awards
---
---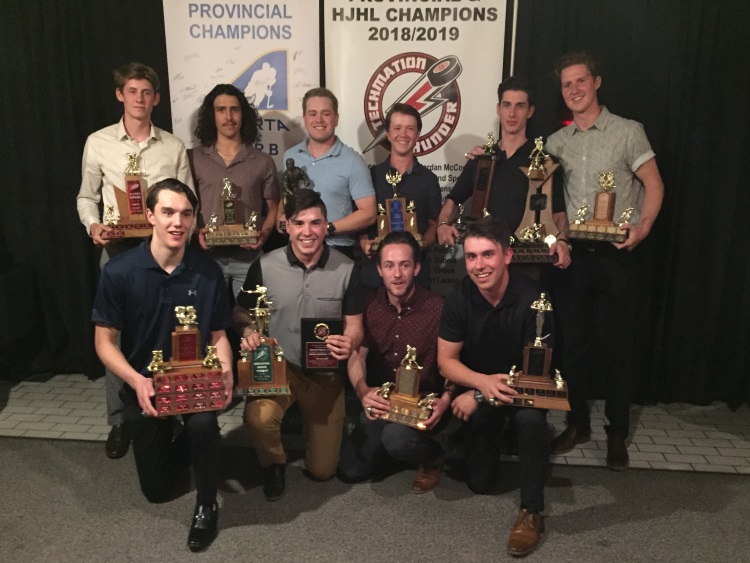 ---
Airdrie Techmation Thunder hand out awards
Jordan McConnell needed a wheel barrel for all the hardware.
The provincial-champion Airdrie Techmation Thunder handed out their year-end awards on Wednesday and McConnell took home four awards.
The Airdrie product, who rewrote the Heritage Junior Hockey League record book with a 125-point campaign won the top scorer and MVP awards for both the team and the league.
"It was really nice to be able to thank everyone who has been part of the organization — all the sponsors, coaches, management," McConnell said. "It was nice to recognize them for all they've done."
Brayden Dunn, who scored the game-tying and overtime-winning goals in the provincial championship game, won the club's Heart and Sacrifice award while Brett LeGrandeur was named rookie of the year.
Other award winners included Jason Wenzel (top defenceman), Kirkland Spencer (sportsman award), Jackson Gibson (most improved), Cooper Page (top defensive forward), Tristan Paquette (unsung hero), Rylan Plante-Crough (dedication), Jackson Little (playoff performer) and Zachary Giroux (President's award).
The Thunder put up a franchise-best 35-3 record during the regular season before steamrolling their way to the HJHL and provincial crowns.
Much to the chagrin of goaltenders across the league, McConnell is coming back for another season.
How will he attempt to top last season's 50-goal, 125-point campaign?
"I don't know if I can top what I did this year," McConnell said. "I don't expect to.
"But hopefully the team can win again.
"We have lots of talent. I'm not sure everyone will come back but we should have a pretty good squad next year.
Plante-Crough, McConnell's linemate who also hit the 50-goal mark, won't be back, leaving a sizeable hole on the top line.
"I'll lose Rylan next year, but hopefully someone else can fill his shoes. I don't know if they can do the job quite like he did this year. But hopefully we can find someone to gel with."
Wednesday's awards banquet gave the 2018-19 Thunder one last opportunity to celebrate the franchise's first-ever provincial championship one more time.
"Once the season was over, some of the guys live in Calgary, everyone's busy with school or work," McConnell said. "But it was nice to get together with everyone again and appreciate what we did this year."
Next year's training camp is still several months away, which gives McConnell a chance to concentrate on another sport.
"I love golf so hopefully I can get my game a little better. I've been golfing lots.
####
For more information:
Derek Stamp
Head coach, Airdrie Techmation Thunder
Derek.stamp@shaw.ca